• Maxiem
1530
abrasive
jet
cutting
machine
• SLM250
additive
manufacturing
system
• 5-axis
Mori
Seiki
NVX5080/40+5AX
DDRT200
vertical
machining
centre
• CNC
Goodway
lathe
• Mitsubishi
EDM
FA105-A
electro-erosion
wire
processing
machine
• Steinbichler
Comet
L3D
mobile
scanner
• Mitutoyo
equipment
for
dimensional
control
and
measurement
• Maxiem
1530
abrasive
jet
cutting
machine
Two active horizontal axes X, Y, maximum abrasive jet pressure 350 Mpa, pump power 20 hp, maximum size 3800x1700 mm, working accuracy ± 0.1 mm
The equipment permits the cutting of flat pieces with complex contour, from various materials such as steel or non-ferrous materials, plastics, granite / marble, rubber, etc., in small series and prototypes.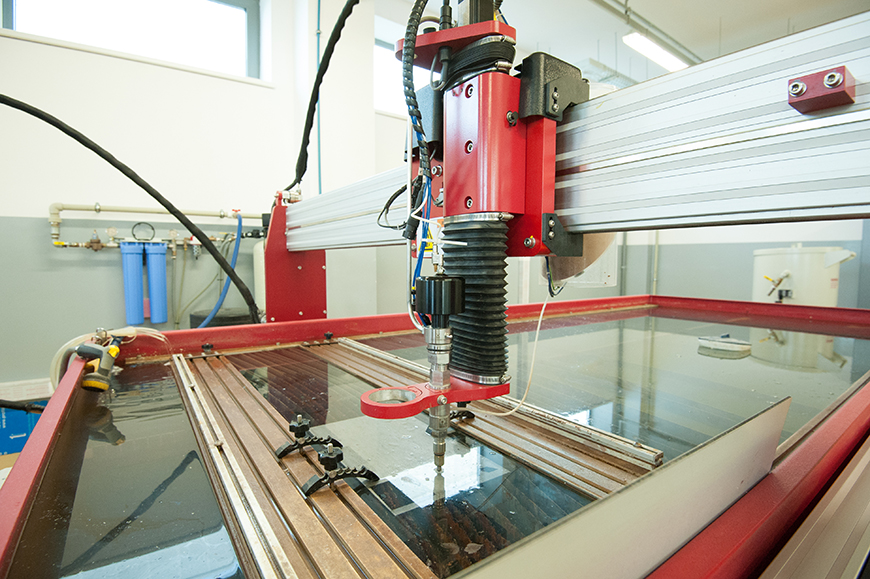 • SLM250
additive
manufacturing
system
Table dimensions 250x250x250 mm, laser power 200W, materials: stainless steel, titanium alloy, cobalt/chrome alloy, layer thickness: 20 ... 50 µm
The equipment allows of additive manufacturing by metallic powder deposition by the SLM process - Selective Laser Melting of metal parts, in small series or prototypes.
• 5-axis
Mori
Seiki
NVX5080/40+5AX
DDRT200
vertical
machining
centre
Maximum speed: 15000 rpm, maximum stokes X/Y/Z: 800/530/510 mm, positioning accuracy: ± 0.0015 mm, repeatability: ± 0.0015 mm, HSK clamping system, DDRT200 rotary table, tool storage capacity: 30
The equipment allows of high precision milling of complex surfaces and other complementary operations such as drilling, boring, threading, by using various cutting regimes including HSM (high speed processing).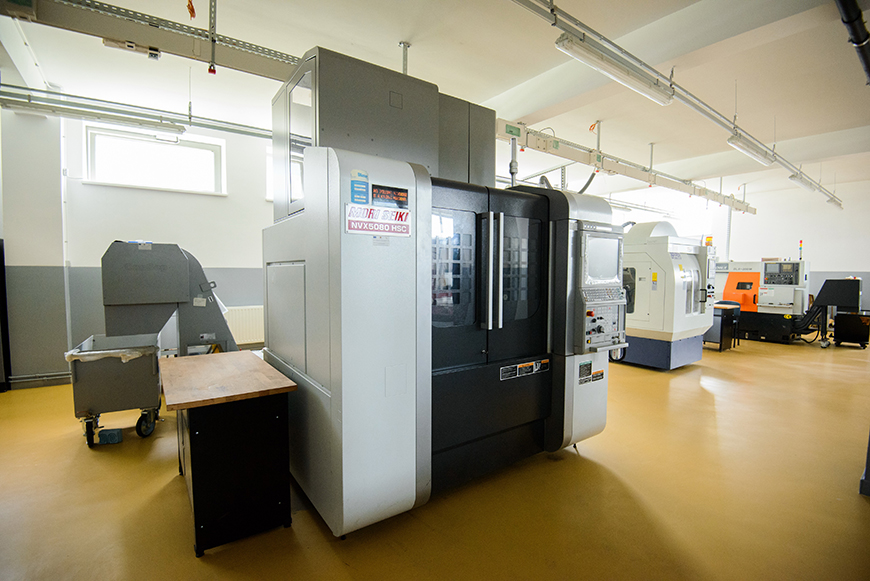 • CNC
Goodway
lathe
• Mitsubishi
EDM
FA105-A
electro-erosion
wire
processing
machine
• Steinbichler
Comet
L3D
mobile
scanner
Non-contact blue light by triangulation, 1600x1200 pixel resolution, minimum measurement volume 100x75x60 mm extensible to any size, speed 2Mp-2sec., scan accuracy 9 µm, rotary table for automatic positioning, Geomagic Studio management software included.
The equipment allows of 3D advanced blue light technology scanning of parts, being portable for an easy handling.
• Mitutoyo
equipment
for
dimensional
control
and
measurement
MitutoyoEuro C544A CMM measuring contact machine, measuring range X –axis = 505mm, Y –axis = 405mm, Z –axis = 405mm, linear measurement accuracy 0.0001 mm; Mitutoyo Quick Image Vision optical measuring system, X-axis = 300mm, Y-axis = 170mm, Z = 90mm, linear measurement accuracy: 0.1 µm, Mitutoyo LH600E digital vertical measuring column, digital dimensional and surface roughness measuring equipment: callipers, micrometers, comparator clocks, track sets, wireless data transmission system.