Advanced
Manufacturing
Technologies
and
Systems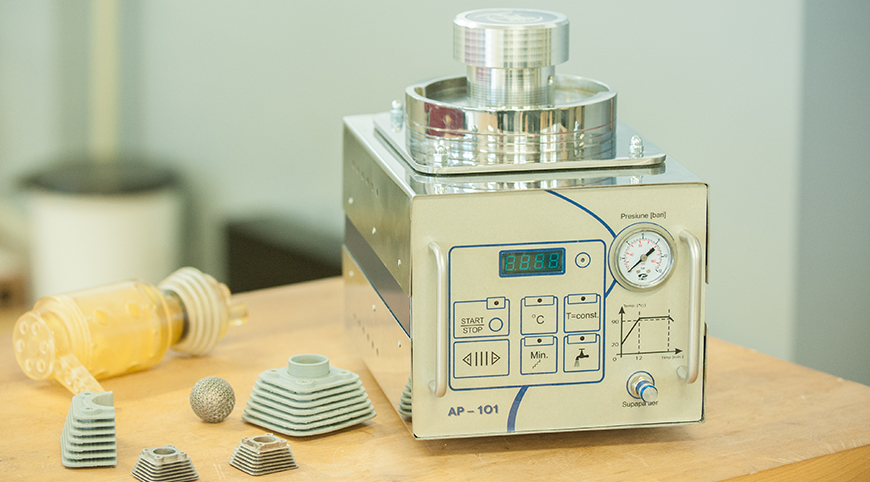 The Centre offers scientific research and technical consultancy services for the implementation of innovative design and manufacture techniques and technologies, and for manufacturing by such technologies, prototypes and small series in the industrial and medical field. The products are manufactured by using additive technologies, CNC machining, water jet and abrasive cutting and wire erosion, using the latest equipment and software design.
• Maxiem
1530
abrasive
jet
cutting
machine
• SLM250
additive
manufacturing
system
• 5-axis
Mori
Seiki
NVX5080/40+5AX
DDRT200
vertical
machining
centre
• CNC
Goodway
lathe
• Mitsubishi
EDM
FA105-A
electro-erosion
wire
processing
machine
• Steinbichler
Comet
L3D
mobile
scanner
• Mitutoyo
equipment
for
dimensional
control
and
measurement
Products
and
services
with
innovative
potential
• Induction
device
for
thermobaropolymerization
• Thermal
engine
manufactured
by
additive
technologies.
• Method
and
stand
for
accelerated
test
of
fatigued
blades
Improving the waterjet and abrasive manufacturing technology of Hardox steel parts
Research for the optimization of the organizational management system
Implementation of an organizational management system for its certification
Research on the innovative manufacturing of the parts for electric motors
Optimization, testing and execution of prototype marks in the automotive industry
Sponsorship contract with Mitutoyo Romania SRL
Sponsorship contract with T&T Quality Engineering RO SRL
Research on the additive manufacturing of Max L112 electric motor components.
The human resource of the research centre is made up of the members of the Manufacturing Engineering department at the Faculty of Technological Engineering and Industrial Management.
In the scientific research centre called Technologies and advanced manufacturing systems, the scientific research is carried out in three groups:
Performing manufacturing technologies and CAD / CAPP / CAM systems
Engineering and Quality Management