The
20th
edition
of
"Horia
D.
Pitariu
National
Conference
on
Industrial-Organizational
Psychology"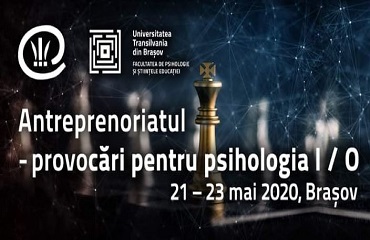 21-23 May 2020, "Sergiu T. Chiriacescu" Aula
The event is organised by the Association for Industrial-Organizational Psychology (APIO) and the Faculty of Psychology and Education Sciences (Transilvania University of Brașov).
The 20th edition of the conference has as its main theme "Entrepreneurship - Challenges for I/O Psychology".
Continuing the tradition of APIO conferences, we offer both current and future practitioners a series of workshops to train the professional skills relevant to the field of human resources psychology. Furthermore, this year we continue the series of state-of-the-art presentations in Romania, as an opportunity to know the scientific research activity of some Romanian experts and to fix the key information regarding major research topics in the organizational field. The exchanges of research ideas and scientifically validated best practices will take place in the sessions of scientific communications; and the dilemmatic topics, which may be subject of analysis, will be addressed in the panel discussions / round tables.
The special guest of this year's edition, Prof. Christian KORUNKA (University of Vienna), will present a lecture entitled "Intensification and flexibilization as important trends in the current world of work".
Details on how to register and to submit scientific papers, fees and the conference program can be found on the conference website (http://conferinta.apio.ro/).
We are waiting for you in Brașov, the most beautiful city in Romania, to take stock of our scientific achievements, to meet again, to enjoy the presence of some outstanding personalities of psychology.